Might and Magic: Heroes 6 release date: October 13th 2011 !!!
Might & Magic Heroes 6 Demo
!!! Download Heroes 6 Demo here !!!
Download Heroes 6 Demo Beta Patch 1.4
Minimum & Recommended Heroes 6 system requirements!
OPERATING SYSTEM:
Windows XP, Windows Vista, Windows 7 (all 32/64 bit)
PROCESSOR: minimal (recommended)
Intel Pentium Core 2 Duo E4400 @ 2.0 Ghz, AMD Athlon X2 5000+ @ 2.6 Ghz (Intel Pentium Core 2 @ Duo E6400 @ 2.00 Ghz, AMD Athlon II X2 240 @ 2.8 Ghz)
RAM: minimal (recommended)
1 GB for Windows XP and 1.5GB for Vista / Windows 7 (2 GB)
VIDEO CARD: minimal memory/directX version
(optimal memory/directX version)
512 MB, DirectX 9.0c (1 GB, DirectX 9.0c)
DIRECT X®:
DirectX® version DirectX 9.0c 2008 November (included on disc)
DVD-ROM DRIVE:
DVD 8x (DVD 24x), needed only for installation
SOUND CARD:
DirectX 9.0c compatible (recommended)
HARD DISK:
8 GB
PERIPHERALS:
Mouse, keyboard
MULTIPLAY:
128 kBit/s upstream
---
"SUPPORTED VIDEO CARDS AT THE TIME OF RELEASE"
First list to be completed :
Minimal: NVidia GeForce 8600GTS, ATI Radeon HD 2600XT, both with 512MB of VRAM
Recommended: NVidia GeForce 8800GTX, ATI Radeon HD 3870 both with 1 GB of VRAM
The video card has to have/support Heroes 6:
Minimum 512 MB of Video RAM
Vertex Shader 3.0
Pixel Shader 3.0
Vertex Texture support with R32F or R16F format
Render Target support with R32F and G16R16F format
Also, there is no Mac version planned, only PC.
---
Six new details about Heroes 6!
Town screen: there is as yet a town screen, or more specifically, a town window. The Theme music is a constant characteristic of each town. This kind of an animated town screen is 2D. The town screen of Haven was component of the failing elements that is why it was displaced by a simple screenshot for the demonstration variant.
3D model permits to get more information about a city on the adventure map. You can learn different facts about the strategy of your rival only observing developed towns.
You can see various mines on the adventure map. It is still necessary to flag them with an aim to get resources. The novelty is now all mines are under control of a fort or city. Once you are the owner of the city or the fort, your mines are flagged; just one way to take the mines from you is to occupy the fort or city that supervises the area.
I know that some part of you thinks there are many changes to the classic variant of Heroes, and I realize amendments can be weird. Truly speaking I responded the same way firstly. I can only give you some advice to expect until you play it before giving a judgement. I can convince of playing and feeling like Heroes. Because of this such addition gives some new to the mix. It does not try to be revolutionary or transform Heroes into an absolutely different thing. But it is other thing than Heroes 3 redux. To my mind it is quite a nice thing.
Ubisoft Announces Might and Magic: Heroes 6 in the Official Way!
The information that is put in the press release consists of the following facts: on the 17 of August Ubisoft announced in San Francisco, California, that the return of Might and Magic, having a lot of fans, franchise with the progress of Might and Magic Heroes 6, which will be in sale world-wide on PC Windows in 2011. Advanced by Black Hole Entertainment (Mark of Chaos Battle March, Armies of Exigo), Might and Magic Heroes 6 will consist of all the peculiarities and characters that have made this brand great success all over the world, in addition to many new innovations.
As Adam Novickas said Might and Magic is a powerful franchise included a striking twenty-year legacy. Adam is a director of marketing at Ubisoft U.S. According to his words players will be able to take a delight of the Heroes experience like never before. The wonderful creative groups at Black Hole Entertainment are keeping the peculiar Heroes spirit, heightening the RPG components.
The adventure of Might and Magic Heroes 6 begins four hundred years before the occurrences in Heroes of Might and Magic 5. A family of heroes is described in a stirring, epic story where Angels conspire to revive a war that is not finished.
While the war of the Elder races took place a legendary Archangel general was killed. He returns to life full of power. He makes unification of the Ashan people to annihilate the ancient enemies but in such a way that the others think he prepares for a forthcoming Demon invasion. In fact he undervalues the strength of the all too human Griffin Dukes' dynasty.
The players will be able to make the destinies of Griffin heroes. There are some possibilities for players in the game:
They will take a delight in playing Heroes game that is critically acclaimed. The game is remasterized with the help of the well-known creator, Black Hole Entertainment, and also in close partnership with a great number of Heroes fans.
While playing a player feels the unique combination of Turn-Based Strategy and RPG. There is the opportunity to explore adventure maps of the large size, collect a lot of different recources and build exceptional cities in the game.
Improve your tactic actions to level-up the heroes, conscript troops and prepare them for battles on exclusive maps.
Make your hero's destiny: Direct the Heroes of the Griffin house within an intriguing script. Make your own choices and customize your experience during the game because of a brand new kind of the system.
Discover again the gorgeousness of the Might and Magic Universe: plunge into the Ashan world of wonderful landscapes and creatures. Get a lot of pleasure because of revisiting 3D designs and an extraordinary new bestiary.
Communicate with the community. A new and intelligent interface for intercommunication online gives the opportunity to post content and contend with your friends.
---
Heroes 6 announcement for August at Gamescom?
The site of Poland - Online Games gives information about the fact how Ubisoft by accident alluded to the project that was not planned to be disclosed. This project represents something like "strategy, supplemented with RPG components". It is thought to be shown at Gamescom 2010-a tremendously popular videogame festival founded in Germany. Such kind of news was given by mistake so the preventing measures appeared, but they could not give an opportunity to stop appearance of such headlines. How great is the possibility that this enigmatic strategic game may be Heroes 6?
As Gamescom has no details about the project that may be existed at E3 2010, so it would be the next best venue for an apparent announcement. Cologne will be the place for holding of Gamescom in the interim from 18 to 22 August, a bit over a year later "t-shirt hint". So be attentive and notice everything connecting with our favourite series.
---
There is another kind of news that Heroes 6 is developed
Shrewd readers who have been drawing attention, may keep in mind that, a couple of days ago, one of the Heroes Kingdoms beta investigators publicly posted at the Ubisoft forums, using reference to a very secret Heroes of Might and Magic 6 presentation, only exposed to a limited number of people at Ubisoft France. This remark was deleted from forums that show the Heroes 6 announcement is near.
---
A new Heroes 6 - representative of Ubisoft community
For the first time for months they succeed in finding out official personnel at the Ubi forums. There is a poster Xhane at these forums that called herself as the new developer of Might and Magic community. She has been a fan of the series for a long time, so she surely told that her role is to make communication between the development teams, giving answers to the questions and taking responsibility for Heroes 6 feedback. Her promise is to join fan-sites and all Might and Magic guilds by the end of the week. Soon we shall see Xhane at Heroes Community.
---
Heroes 6 has been practically confirmed
The producers of the game Heroes of Might and Magic Romain de Waubert and Erwan Le Breton nearly confirmed that there will be a sixth outing for franchise. The interview with this information was published with the website PlanetDS, founded in Germany. N4g.com also has taken some news and the developers of this site are impressed by an ironclad "yes".
To the question about their future plans the producers give the following answer:
"…shrewd observers can get some light of the future if they put the Clash of Heroes producer diary videos to scrutiny. The most significant moment of the video is when the notably great two producers present the next line of fashion clothes for Spring-Summer season, using the style of Might & Magic..."
"I am so fond of Might and Magic that is why I am used to wearing its future similar to my second skin, understandable and pleasant to my soul…"
This surely concerns the Might and Magic. The producers wore Heroes 6 logos in recent developer diaries. Probably the game will see daylight through the sales of forthcoming DS game Might and Magic: Clash of Heroes.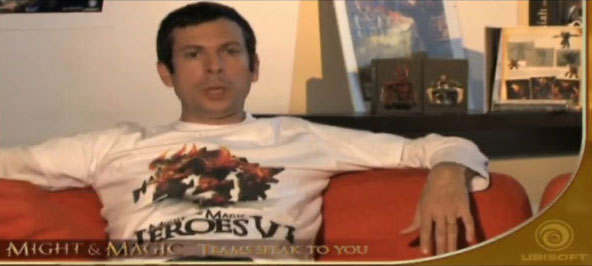 ---
Is Heroes 6 in development? By the Dark Messiah team?
At present we still have no official remarks about Heroes of Might and Magic presentation now or soon in future. To this very day there were some questionable hearsays, for example information on Gamasutra.com about "Looking for Heroes of MM Lead Game Designer".
But a day before the game fans spoted a very intriguing image. It is a video screenshot, the author of which is Romain de Waubert de Genlis. He was working on such titles as "Battlefield 1942", "Call of Juarez", and "Tom Clancy's Ghost Recon". Besides, Romain was producer of Dark Messiah of Might and Magic in 2006. His photo demonstrates a shirt with a stamp of Heroes artwork. Unfortunately the image is too indistinct and it is very difficult to say what is accurately on it but it is like a demon creature, still you can read the clear phrase under the stamp: "Heroes of Might and Magic 6"
We can think about this in two ways: Heroes 6 may be developed now, and the new producer is maybe Romain Waubert de Genlis, since Fabrice Cambounet is busy with the browser-based game Heroes Kingdoms.
Might and Magic: Heroes 6 release date: October 13th 2011 !!!
Aidan at 2013-03-28 22:48 wrote:
How do you spell that? mail order abilify Advanced Community Practice, and electives.
adis at 2011-11-10 22:25 wrote:
my grafil is 64 mb hahaha and can play heroes 6 :D speed 5.35 GHz RAM 4 GB its my lap top :)
adis at 2011-11-10 22:16 wrote:
heroes 6 is buull sheeat. Heroes 5 in the best :)it my think
tsogoo at 2011-10-16 17:21 wrote:
nice2 can you help me ? to send me all homm pls
Dirk at 2011-10-10 01:19 wrote:
wil HOMM6 run on GEFORCE GT335M CUDA 1GB, 4GB memory.(notebook)

Cause the demo is not compatible with the GEFORCE 300 series.
Sleeper at 2011-09-11 10:56 wrote:
More creatures for Heroes 6 would be really nice :).
khresna at 2011-06-22 11:12 wrote:
need more hero's on heroes 5
kyle at 2011-05-10 09:27 wrote:
Same question as frank, will it be available in sing??
Pedros at 2011-04-23 15:23 wrote:
Heroes 6 release date September 8th
frank at 2011-04-19 19:15 wrote:
Will HOMM6 be available for purchase in Asia, specifically singapore?,cause im literally dying to have it.
George86 at 2011-04-05 20:02 wrote:
i hpe heroes 6 has more multiplayer hotseat maps! my wife and i love Homm 5 but can only play one map...what gives?
abhay at 2011-03-07 22:37 wrote:
thanks...if u add more creature in homm6 like king of bunty...
abhay at 2011-03-07 22:36 wrote:
plz add more creature, items, spell and so on in homm6.....plz plz
Jovan 'DreamSeeka' F at 2011-03-01 08:35 wrote:
Really looking forward to HoMM6... Played them all, Glad the new one is being released soon :D
les woods at 2011-01-05 22:30 wrote:
great to hear m&m 6 is coming out but i have m&m from 1-9 so will this clash with m&m 6 thats already out
dawid at 2010-12-30 17:54 wrote:
Ja też lubie heroes ale lubie tylko heroes 3.5.
francks at 2010-12-19 20:46 wrote:
qwestion:i´ m a really fan from latinoamerica and i love this game could i buy heroes 6 in EE.UU.??
gryz at 2010-09-15 15:01 wrote:
I need PC requirement for Heroes Might & Magic VI, can you tell me? plz..
hendra at 2010-08-25 00:30 wrote:
where, i can download Heroes of Might and Magic III & IV Complete Collection free!! i want to play again
who can share?
ameen at 2010-08-15 21:13 wrote:
i am a civel engineer in Iraq baghdad, the game Heroes of might and magic (1,2,3,4,and 5 are the best for me ) i like to play another maps with more complex with spetail Heroes.
can you sent me anothe r maps plz